How Does Probate Real Estate Compare to Other Types of Real Estate?
Jonathan Khorsandi on Apr 13, 2022 posted in Probate Real Estate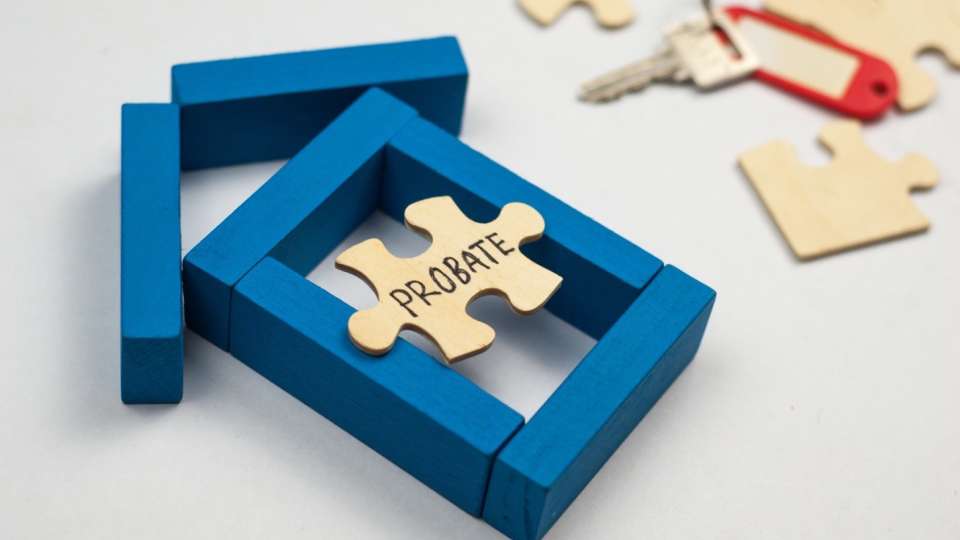 People sell homes for a myriad of reasons. Some of the most popular include foreclosure, divorce, downsizing, or a death in the family.
Death is the last significant life change, and we'll address what happens to real estate in this article. A probate house sale is different from all other types for several reasons.
Understanding what makes probate real estate unique allows you to secure more leads and close more deals faster. Please keep reading for a complete guide on navigating a probate house sale and what makes it a lucrative real estate transaction.

What is Probate?
Before we get into how a probate house sale works, you need to understand what probate is. Probate is the process of identifying and gathering all the assets of a recently deceased person and then using these assets to pay off unsettled debts.
If the person dies owing significant debt, any property they own is sold to pay off creditors. After settling the debts, all remaining assets are split amongst beneficiaries listed in the deceased's will.
How Does a Probate House Sale Work?
When a home goes into probate, it's marketed like a traditional property, but the process can be pretty complicated. Probate house sales offer realtors a unique opportunity to list a property with motivated sellers looking to close ASAP.
Often, family members of the deceased get burdened with settling their loved one's outstanding debt. Without enough money to pay off creditors, they may need to sell the person's home or property.
Next of kin want to settle their loved one's estate as quickly as possible. That's one reason they're so motivated to sell. They're also more apt to accept an initial offer and forgo the haggling process.
90% of all probate real estate sellers will finalize the deal in under 12 months. These factors make a probate house sale a simple, straightforward, and lucrative transaction for agents.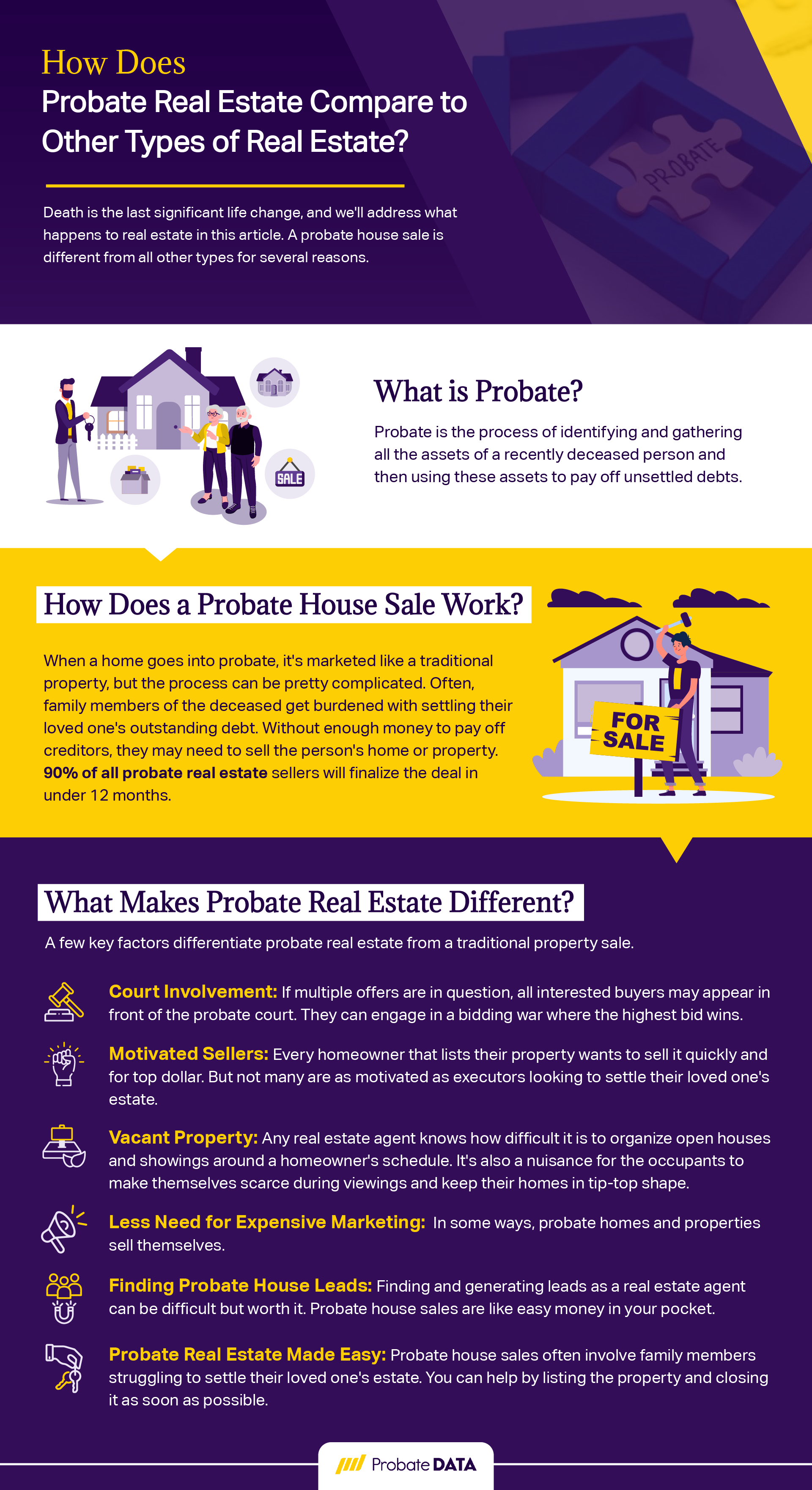 What Makes Probate Real Estate Different?
A few key factors make probate real estate different from a traditional property sale.
Court Involvement
Though minimal, in some instances (less than 25% of the time in some states like CA), courts will need to approve the offer the PR received.
If multiple offers are in question, all interested buyers may appear in front of the probate court. They can engage in a bidding war where the highest bid wins.
The buyer must then pay a 10% deposit to the estate's executor. None of these requirements affect the marketing or sale of a house in probate. If anything, they might expedite and simplify the process for all parties.
Motivated Sellers
Every homeowner that lists their property wants to sell it quickly and for top dollar. But not many are as motivated as executors looking to settle their loved one's estate.
Handling an estate can feel like a full-time job for many beneficiaries. It's time-consuming, tedious, and mentally exhausting. The sooner it's over, the better.
For this reason, many PRs are eager for a quick sale and are willing to sell for a reduced price. A reduced price attracts more buyers, including homeowners and investors.
Most executors can't be bothered with counter-offers or haggling over the sale price. Instead, they're relieved to have the burden off their shoulders, settle any outstanding debt, and move on.
Vacant Property
Any real estate agent knows how difficult it is to organize open houses and showings around a homeowner's schedule. It's also a nuisance for the occupants to make themselves scarce during viewings and keep their home in tip-top shape.
That's another benefit of probate house sales— in most cases, the PR is not currently living in the home and doesn't plan to. An empty house allows you to stage the home for sale, bring in buyers at any time of day, and keep the property looking clean and fresh.
It's also less likely that the executor has an emotional tie to the property. Depending on their relationship to the deceased, the house may hold some sentimental value but not to the level most homeowners feel. A lack of connection makes it easier for them to accept an offer with no strings attached.
Less Need for Expensive Marketing
In some ways, probate homes and properties sell themselves.
While you'll still need to perform all the traditional realtor duties, like conducting viewings and completing any necessary paperwork, you won't need to invest as much time and money in marketing.
Savvy property investors often search for probate house sales and foreclosure sales because they can secure a prime piece of real estate at a discounted price. The estate's executor will be so relieved to get an offer (and get creditors off their backs) that they'll also expedite the sale.
That means less time wasted on dead-end leads and uncommitted buyers.
Finding Probate House Leads
Finding and generating leads as a real estate agent can be difficult. Finding information is even more challenging if you're new to real estate and haven't made a name for yourself in the local market. Probate house sales are like easy money in your pocket.
The best part is, most probate real estate information is free and available if you know where to look. The local probate court can provide some information, but searching online is more manageable and may yield better results.
You'll need a probate case number to search by county and state on the local court's probate website. You may uncover helpful details about the property and who's in charge of the estate. From there, you can start prospecting.
Call your local probate attorney and strike up a conversation when in doubt. Some lawyers are willing to work with a probate real estate agent to help settle their client's case fast.
Probate Real Estate Made Easy
We know how hard it is to generate real estate leads in today's competitive market. But, sometimes, it's all about where you look.
Probate house sales often involve family members struggling to settle their loved one's estate. You can help by listing the property and closing it as soon as possible.
At Probatedata, we offer a variety of plans that simplify the probate house sale process so you can prospect leads faster and more efficiently. Click here to choose a plan that fits your needs, budget, and goals. Or if you just want give our leads a spin, sign up here for a 7-Day Trial.