How Can Probate Investors Help Settle Estates?
Jonathan Khorsandi on Jan 03, 2023 posted in Real Estate Investing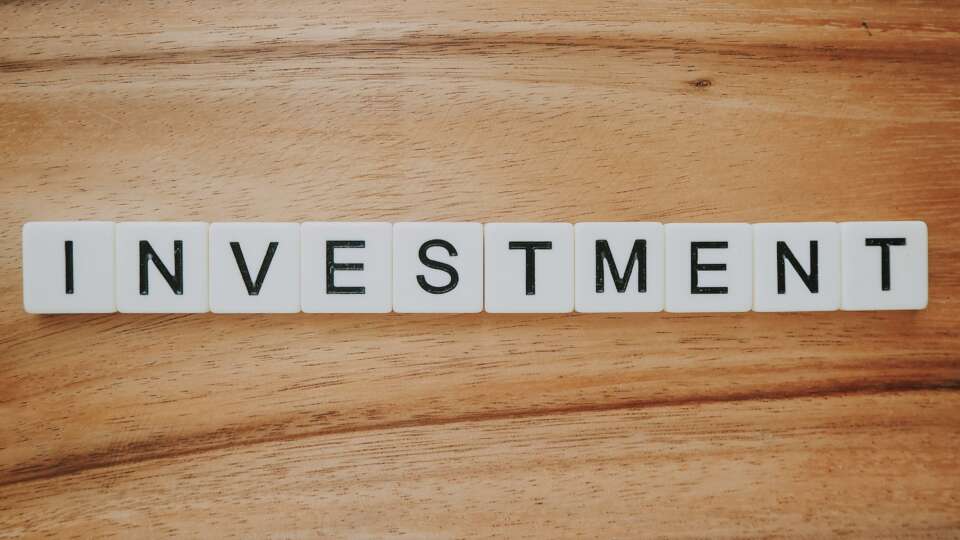 When someone passes away, it can inherently be a difficult time. Not only for the family, friends, and loved ones but those who have to endure the headache of settling an estate.
Anyone involved in a probate process knows the added stress the process can add to an already devastating situation. In addition, the process itself could be more straightforward and more apparent.
Here is where probate investors can help you settle an estate:

What is Probate?
Probate is a legal procedure that occurs after someone passes away. Your estate must go through legal proceedings to distribute the estate to the proper heirs and beneficiaries.
Issues may arise should the will be inconclusive or ambiguous. Additional problems can include when the person who passed away did not have a will or living trust that details their wishes with their estate and assets. These documents specify who and where assets and the estate should be distributed and how.
Probate is court-supervised and authenticates the will—if applicable. The Executor—the person responsible for the distribution—is approved, and the location and assessment of the property and its total value begins. The Executor is concurrently accountable for paying the taxes and any remaining debts from the full value of the estate and then to the appropriate heirs.

What is a Probate Real Estate Investor?
An investor in probate real estate aims to help real estate stuck in the probate proceedings. Notoriously a complex process—not to mention devastating for those who lost a loved one—probate real estate investors help the estate get settled faster.
Distressed sellers find quick and profitable solutions by going forward with a probate real estate investor. Investors search for probate homes to take them off the beneficiaries' hands should they not want to keep the property.
Common reasons beneficiaries do not want to keep the property include but are not limited to the following
Cannot afford it
Distressed property
Too painful
Simply do not want it
Roadblocks Investors Can Help Eliminate
Settling an estate can be one of the most overwhelming processes after the death of a loved one. Already an innately emotional time, the added stresses of probate settling can feel too much. Many people find themselves confused with the process and all the numerous steps it takes to settle the estate.
Here are some of the top roadblocks investors can help eliminate during the estate settling process:
Navigate the way
Probate investors know the ins and outs of the probate estate settling process. Their guidance can significantly reduce the frustration and confusion of an already-difficult process.
Probate real estate investors are experts in the industry. They can navigate the legal proceedings so you can focus on healing after the loss.
Expedite the process
Hiring a probate investor is a great way to establish accountability. However, going through your loved one's belongings can be difficult and detract from the estate settling process.
A skilled probate investor can help keep you on track and expedite the process so you can resume your everyday life and begin the healing process. More times than not, you will be eager to sell the home as it may feel too painful.
Resolve back taxes
Probate investors do more than settle estates—they assist with taking care of any back taxes owed on the house. In addition to back taxes, remaining house payments, arrears, and liens are all handled by probate investors.
The costs mentioned earlier can typically be included in the closing costs at the home's sale. This can reduce stress, time, and confusion during probate and selling.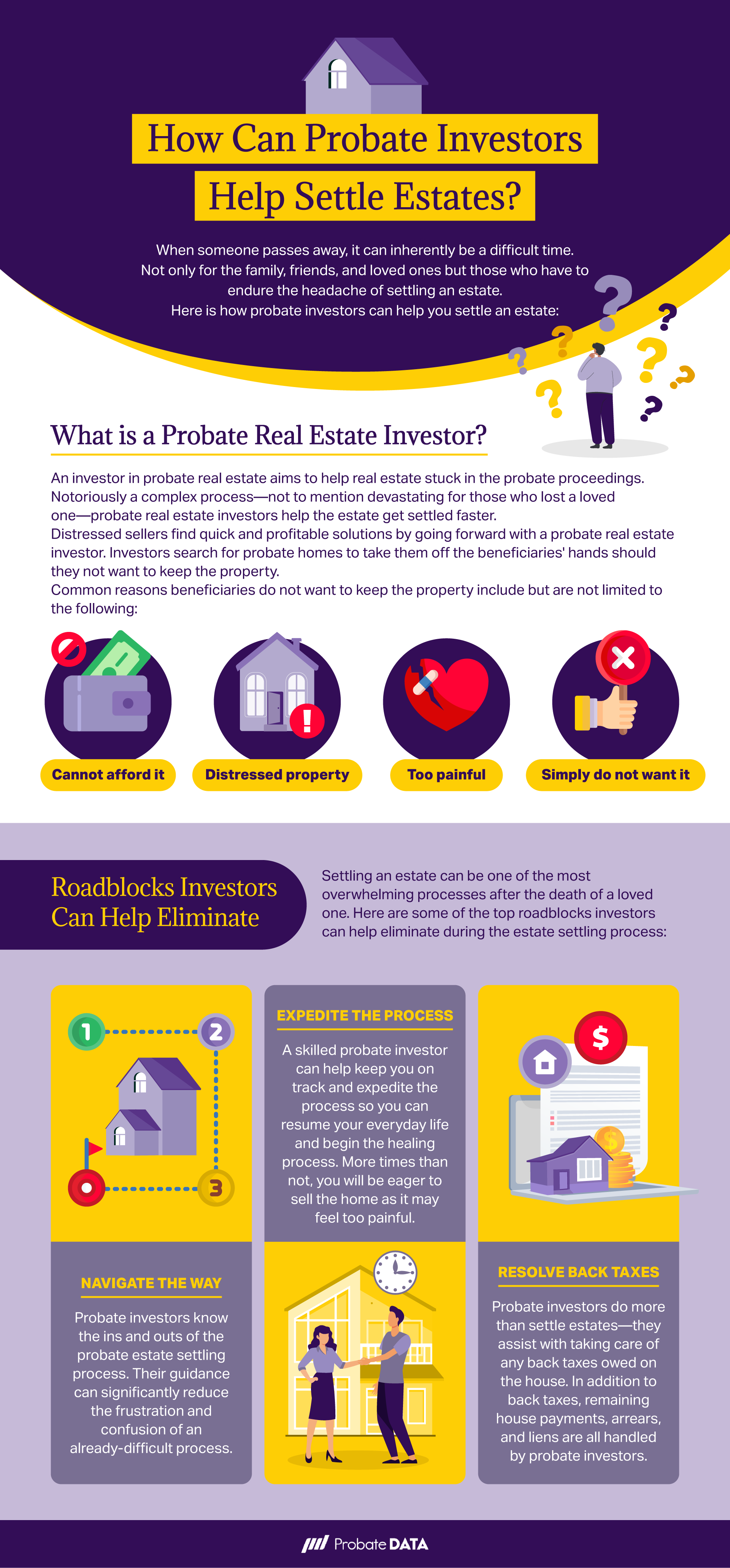 How to Buy Probate Real Estate
Probate real estate investors must take the first steps of educating themselves in the real estate market—and probate. Understanding the entire probate process and where you can benefit the most from probate real estate is imperative.
Acquire a list of properties or leads
Your next step is to acquire a list of probate properties. Many real estate agencies specialize in probate property.
ProbateData is another proven way to get premium access to probate real estate leads. You will get direct access and complete information on each probate case in your county. In addition, discovery and scrubbing can help you qualify for probate real estate records for your review.
You will receive ten times your listings instantaneously. In addition, accessing key decision makers in specific probate real estate that must sell within a short timeframe can help you land the purchase. By 2023, around $15 trillion worth of estates will settle—the perfect time to become and expand your probate real estate investing business.
Create a marketing campaign
When you receive the essential list of probate real estate in your area, the next step is to create a direct mail marketing campaign. Customize the content toward specific properties to garner their immediate interest. People stuck with handling probate matters will be looking to sell quickly, and your marketing campaign can swoop them off their feet.
Effective direct mail campaigns can include:
Flyers
Newsletters
Press releases
Postcards
And more
Personalized messages work best as people feel represented and seen. Handwriting the letters adds extra compassion toward their situation and empathy toward the purchase of the home of their loved one. Continue to repeatedly reach out as many things are occurring in the lives of the decedent's family handling the estate. A motivated seller will quickly contact you to take the estate off their hands.
Probate Real Estate Generates Wealth
Probate real estate is beneficial for a multitude of reasons. Helping people who have lost a loved one with the estate can significantly reduce stress. Understanding the probate process can help you assist others in a time of need.
Investing in probate real estate can be a great way to generate wealth while making a name for yourself in the real estate community. In addition, purchasing probate real estate, rehabilitating, and reselling can make a great living.
When you are ready to begin or continue your probate real estate ventures, check out our 7-day trial with access to 10x more probate listings in your county.